Latest posts by Thomas Gilham
(see all)
Let's face it, using the Internet is not a cheap endeavour. In addition to the actual device you plan on connecting, you have to deal with the cost of service from your ISP. Throw some added security and privacy features on top and things start to add up quite quickly.
Investing in a VPN, also known as a Virtual Private Network, service is crucial in our heavily-monitored society. They can provide you with more freedom and give you a truly open browsing experience. Unfortunately, VPN service providers do charge you for using their servers. Maintaining a large network of hardware across the world isn't cheap, so those costs are passed on to you, the user.
Thankfully, as VPN service becomes more and more popular, subscription prices have gone down quite a bit. You can easily find a cheap VPN that offers great levels of security without breaking the bank. Check out our VPN review to learn more about some of the best cheap VPN services that money can buy.
Let's dive straight into the Best VPN Services for those people on a budget.
Best Cheap VPNs – You Don't Need To Pay The Earth For A Decent VPN
NordVPN
You have probably heard of NordVPN before. The service provider is a very popular option among those who value their privacy. The VPN has many great security features. These include multiple security protocols, a dedicated kill switch, and leak protection technology. The company also has one of the biggest server networks out there. They have over 5,300 servers. Best of all, these servers can be used to torrent files, watch Netflix, and much more. NordVPN doesn't collect any logs, nor do they restrict access to any particular websites.
With all of these great features, you'd think that NordVPN would be expensive. Though, that's not the case. Sure, the monthly subscription rate is more expensive than many of the provider's competitors. However, their long-term plans offer great savings. If you pay for three years in advance, the VPN service will only cost you about $3.00 a month!
Best Value Price:
$2.99 per month with a 3 year subscription plan
Billed as $107.55 every 3 years
Pros:
Multiple low-price plan options
Many different accepted payment options
30-day money-back guarantee
Allows p2p downloading
True no-logs policy
Supports a wide range of devices
Some of the fastest VPN speeds and unlimited data
Cons:
More expensive if you pay on a month-to-month basis
SurfShark
With a very low price tag of only $1.99 per month with the 24-month plan, SurfShark is a great investment. Despite its affordable price, this provider has a lot to offer users. One of its biggest features is the ability to connect as many devices to the VPN as you want. While other companies only let you have a handful of simultaneous connections at once, you can protect all of your devices under one account with SurfShark.
The security features included with SurfShark aren't bad either. Some of the most effective security protocols are used. There's also a kill switch to keep you protected from accidental IP leaks, malware blockers to stop phishing and DNS attacks, and a unique split-tunneling feature. The service provider is fine with file sharing. In fact, the software lets you connect to optimized servers just for torrenting. There are also servers to access Netflix libraries around the globe.
Best Value Price:
$1.99 per month with a 2 year subscription plan
Billed as $47.76 every 2 years
Pros:
Unlimited simultaneous connections
Over 800 servers worldwide
30-day money-back guarantee
Independently audited for security practices
Kill switch and malware blocker
p2p-friendly
Dedicated Netflix servers in 8 different countries
Cons:
Only have 7 days to claim refund
PureVPN
PureVPN is another popular choice with acceptable payment plans at a good price range. Attributes are numerous, and the service will definitely help in keep you safe from any privacy threats. Torrents also work well within their servers, and will never result in speed throttling. What you get is a VPN that's riddled with features that you would commonly see in top shelf products. It's also a favorite among Reddit users, and has been routinely recommended by people with a great deal of knowledge about VPN services.Furthermore, don't ever worry about DNS leaks.
Your connection will remain off the public grid, even if the program were to sign you off suddenly. At times, your account might take a little while to sign you on, particularly when the servers are very busy. Three minutes is a long time to wait around for a connection. But make no mistake, Pure VPN is still one of the leading providers in the game, and their reputation among the VPN community speaks for itself.
Pros:
Won't throttle connection speeds when using the VPN for torrentingHas all of the expected security features in place to shield their user based from hackersCan prevent DNS and IP leaks with the "kill switch" feature
Cons:
Connection times may take up to three minutes or longer, especially from slow ISPs
Private Internet Access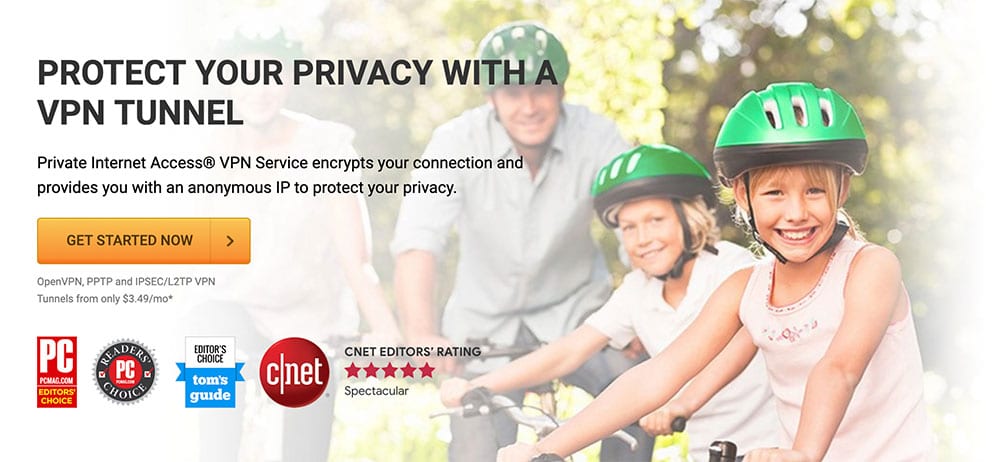 One of the best cheap VPNs around, PIA is also huge on quality of service. They are cheap but that doesn't mean they scrimp of the quality of their VPN services. Connection is pretty fast and speeds tend to be around 35 megabytes per seconds, which is good. It's around the level of the best 10 VPNs on the market. I've never had any issues with connecting to the VPN, but the customer service is a little slow. They do get back to you and 100% of the time, resolve your issues.
I recommend PIA as its ideal for those who want high speed server connection without having to pay the high fees that some high-end VPNs do.
Payment Packages:
Monthly plan: $9.99/mo
1 Year Plan: $5.99/mo
2 Year Plan: $3.49/mo
Pros:
Variety of budget plans that have both monthly plans and yearly payment plans.
No lag in busy periods. Fast connectivity.
No logging policy
Torrenting allowed
Cons:
Customer support is a bit slow.
Only 1 server works on Netflix
Ivacy
Ivacy is still a relatively new contender in the VPN market, but that doesn't mean that their service is anything to balk at. The company has more than 1,000 server locations. The downloadable software, which is available for everything from Mac computers to Android tablets, can be programmed to choose the right server for your needs automatically. Ivacy has many dedicated servers for p2p downloading, streaming, and more. You can switch between these servers as much as you want for no extra charge.
Speaking of price, Ivacy is one of the cheapest VPN options available. The 2-year plan costs less than $3.00 a month. But that's not even how cheap Ivacy can get! The company has frequent promotions throughout the year. These promotions offer subscription prices as low as $1.33 a month! Many different forms of payment options are accepted. These include most major credit cards, digital wallet services, and bitcoin.
Best Value Price:
$2.25 per month with a 2-year plan
Billed as $54.00 every 2 years
Pros:
Frequent subscription promotions
Accepts crytocurrency payments
Zero-log policy
256-bit encryption
Unlimited speed and bandwidth
Servers optimized for torrenting
Can connect up to 5 devices
Cons:
Only have 7 days to claim refund
Complicated money-back guarantee restrictions
PrivateVPN
For about the price of a large cup of a premium coffee, you can enjoy online protection and privacy from PrivateVPN. As the name would suggest, this service provider is all about keeping your information safe from prying eyes. They have military-grade encryption and are one of the few companies that offer five different security protocols. Great features like a kill switch and leak protection technology are also included for some peace of mind. PrivateVPN does not keep any logs about your time on the web. As a result, the company doesn't restrict access or prevent you from using a p2p client.
PrivateVPN also does a great job with customer service. There's a live chat support button at the corner of every page to get help whenever you need. The great thing about this VPN's support team is that it's not made up of random people reading a script. Instead, contacting support connects you with the developers who created the service.
Best Value Price:
$3.82 per month with a 2-year plan
Billed as $49.68 every 2 years
Pros:
Easy to set up
Affordable monthly and yearly plans
Military-grade encryption
No logging policy
Separate computer apps and Chrome Browser extensions
5 different security protocols
Kill switch, port forwarding, and IP leak protection
30-day money-back guarantee
Cons:
Fewer servers than competitors
CyberGhost VPN
With over 3,600 servers in more than 60 countries, CyberGhost is more than capable of handling your Internet traffic. The VPN service is another example of a big-name provider that offers plans with great value. To get their most affordable rate, you'll need to pay for three years of service upfront. With this plan, you can connect as many as seven devices to the VPN at one time. If you would like even more privacy and security as you browse, you can also get a dedicated IP all to yourself. Though, that does come with an added cost of about $5.00 a month.
Many great features are included to improve the way you use the Internet. It uses solid encryption methods, more than one security protocol, and built-in ad blocking. The VPN automatically stops unwanted connections before they make it to your stream. This can prevent inadvertent phishing attacks, DNS issues, and so much more.
Best Value Price:
$2.75 per month with a 3-year plan
Billed as $99.00 every 3 years
Pros:
Easy to set up
Can unblock popular streaming services
No-logs policy
Effective security protocols and 256-bit encryption
Can be used on mobile devices for safe connection to Wi-Fi
Kill switch, port forwarding, and IP leak protection
Generous 45-day money-back guarantee
Cons:
No servers in China, Russia, and many Asian countries
What About Free VPN Services?
If you're thinking about using a free VPN for all of your daily Internet needs, you may want to reconsider. While these service options may be advertised as free, the fine print often says otherwise. Nothing in life is free. Like so many other websites and social media platforms, so-called "free" services make money by selling information about the user.
Take a quick look at the terms of service and privacy policy of these free VPN service providers. You'll probably find some information about how your IP address information and online activity logs are being sold to third-parties. It defeats the whole purpose of a VPN, which is designed to provide you with more privacy on the web. Who knows what these third-parties are doing with your data? To avoid any privacy issues, it's best to steer clear of free VPN services.
How You Can Save On Your VPN Service
If there's a VPN service that you already like, you may be able to save a few bucks on your subscription fee. A large majority of companies offer savings when you pay for many months in advanced. While you will have to shell out a bit more money up front, these longer subscription cycles cost much less per month than the standard plan.
1 or 2-year plans are a low-cost alternative to paying monthly. You can pay for the entire length of the subscription at one time and not have to worry about it again until the end of the cycle.
Features You Shouldn't Skimp On
As with anything product or service, cheap VPNs aren't going to have the same high-quality features as their more expensive counterparts. Pricier service providers can offer more perks to their customers because they charge a much higher subscription fee. With that being said, you shouldn't sacrifice your privacy and security for a few bucks. There are some features that you can do without and others that you absolutely need. It's important that you never choose a service based on price alone.
As the old saying goes, "You get what you pay for." Super-cheap VPN providers are notorious for offering almost insultingly bad service. They have slow connection times, loose logging policies, and just awful plain security features. To find a good VPN that's easy on the wallet, you need to take a bit of extra time sorting through all of the features the provider has to offer. There are many great hidden gems that can do a lot to improve your overall browsing experience without breaking the bank. To help you find an affordably priced VPN that's effective and reliable, here are some important features that you should pay special attention to.
Logging Policies
One aspect of low-cost VPNs that you should never cut corners on is its privacy. The whole reason that many Internet users choose to get VPN service in the first place is to prevent outside parties from gathering information about what they do online. If you have to sacrifice privacy just to save a few bucks, is it really worth it?
The best cheap VPN provider will have privacy-focused no logging policies that are designed to favor users. You see, VPNs can still gather data about you and your online activity even if the websites you're visiting are unable to. There's a chance that this information can be used against you. Companies in many jurisdictions are legally obligated to provide any requestion information to law enforcement. If that company has a zero-logs policy, they'll have no information to give up.
If online anonymity is your top priority, go with a VPN that's based out of a country with good privacy laws. Companies in Switzerland and the British Virgin Islands, for example, aren't subjected to the same rules and regulations regarding digital privacy as those in the United States. As a result, many of these cheap VPN providers have very strict no-log policies that benefit you, the end user. It's an important feature that you should look for in any VPN.
Server Speed
What good is a VPN service if you can't even connect to the websites you're trying to visit? VPNs work by sending your data through a secured tunnel before it communicates with the destination website. During this process, your IP address is hidden and replaced with an IP address from the VPN. While this all happens in a fraction of a second, it still has an effect on your overall connection speeds.
Your Internet speeds can get considerably slower when you're on a VPN server. Good VPN providers will have optimized servers that are engineered to minimize the effects of the connection process. If you want to have download speeds that are close to what you normally get on an unsecured ISP connection, you're going to have to go with a VPN that doesn't sacrifice server performance for a lower fee.
Customer Support
Customer support specialists are going to be the light at the end of the tunnel whenever you have an issue with your VPN service. Many providers design their software to be easy enough for non-experienced users. However, that doesn't stop issues from occurring. Having a great support team at the ready can make all the difference in how successful the service is for you.
Unfortunately, VPN companies are notorious for having less-than-stellar customer support. As you can probably imagine, it's even worse for companies that are trying to save a buck or two. To ensure that you can always get connected, you need to choose a VPN provider that has a reliable customer support team that you can trust. Look out for multiple forms of communication. Live chat support, community message boards, and detailed setup guides are all helpful.
Global Coverage
The number of servers a VPN has is going to play a big part in its overall performance capabilities. Pricier providers have several thousand servers located in countries around the world. This usually results in fast speeds and impressive uptimes. Overall, more servers typically mean a better user experience.
Affordable VPNs won't have nearly as many servers as big-name competitors like ExpressVPN or NordVPN. But that doesn't mean that performance has to suffer. As long as the company has a decent number of servers, it should be fine. Check to see where those servers are located and compare them to what you plan on using the service for. For example, if you plan on using the VPN to view European Netflix libraries, make sure that those countries are covered.
Security and Anonymity
Another thing you don't want to skimp on is security. Efficient safety protocols are the name of the game when it comes to keeping your IP address hidden away. During your search for the best cheap VPN, pay attention to the safety features it includes. At the very least, it should have one security protocol, preferrable OpenVPN. OpenVPN is the most secure protocol that can be used on many different devices.
The more layers of security a VPN has, the better it will be at keeping you safe on the web. In addition to a solid security protocol, look for options with great encryption techniques. AES 256-bit encryption is ideal.
As a last-ditch effort to make sure that your identity stays private, some of the best VPNs have features like a kill switch and DNS leak protection. As the name would suggest, a kill switch terminates your Internet connection whenever the VPN client crashes. With DNS leak protection, the VPN forces DNS requests through a secure connection rather than the standard ISP line.
Geographic Limitations
One of the most popular uses for a VPN, aside from private browsing, is unlocking restricted content. Many people around the world use VPN servers to access foreign Netflix and BBC iPlayer libraries. This is achievable because of how VPNs hide your real IP address. Your physical location is attached to your IP address. As a result, you can be denied access every time you visit a website or streaming platform based on where you are in the world. Because VPNs provide you with a new IP address located in the country of the server you connect to, it tricks the platform into thinking you're there.
Unfortunately, not all VPNs are effective at doing this job. Many streaming companies actively block VPN IP addresses, making it difficult to see geo-restricted content. If this is an important feature to you, consider going with a provider that has obfuscation technology that can get around blocks.
Use Restrictions
Finally, you should always consider any use restrictions the VPN may have. To provide the best value they can, many companies will strip away key features and place restrictions on how much you can use the service. For example, many free VPNs only let you use a certain amount of data before they start throttling speeds. While the subscription fee may be lower, you're still paying to use the service. So, you should always stick with options that offer unlimited bandwidth.
When it comes to what you can do on the VPN server, there's a lot of variation within the industry. For example, some allow p2p file sharing while others may terminate your account if they catch you doing it. Similar differences can be found with content streaming as well. Examine a company's policies before you commit to a paid plan and make sure that it's appropriate for you.
To Sum Up
As you can see, it doesn't have to cost a ton of money to take advantage of the benefits that a VPN has to offer. While these services may seem simple enough, they do a lot to dramatically improve your safety on the web. Without a VPN, you put yourself at risk for tracking, malware attacks, and so much more. With a monthly, annual, or triennial payment options, you can get some extra peace of mind and freedom every time you connect to the Internet.